2019 Canada Salary Guide


41% of Canadians are seriously reconsidering their role for one with a higher salary. Discover how risky pay practices have put your business goals at risk and how you can overcome it with your copy of the 2019 Salary Guide.

Our 9th annual Hays Salary Guide provides a comprehensive look into the Canadian labour market based on a survey of over 4,000 employers; learn what professionals forecast for 2019 in compensation, benefits, recruitment and retention, and much more.
---
Specialist webinars
Watch one of our specialist webinars, hosted November 2018 by Hays' industry experts for key highlights:
---
Additional Resources_right hand
Interested in additional resources?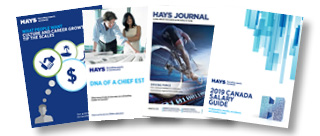 From salary guides, to labour market reports, blogs and more - we've got it.