Here are the top interview questions to ask a candidate
4 minutes | Travis O'Rourke | Article | Recruiting Conducting interviews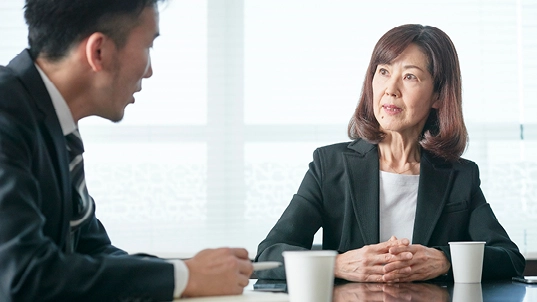 How were your interview skills last year? It may be time to revisit your well-worn questions so that you uncover important details to help you make an informed hiring decision. Remember that interviews are a two-way street, as candidates are also evaluating you as an employer of choice.
By brushing up on your interview skills and learning a few quick tricks to keep the interviewee engaged, you will ensure that the candidate is at ease and will leave with a positive, informative experience. Here are some important questions you'll want to include in your arsenal when conducting your next interview.
Can you tell me more about yourself?
This is a great way to open the conversation and can also serve as an icebreaker question that will help the interviewee relax. It will also provide a general overview of how they see themselves as a professional, before you dive into the specifics. Additionally, it will help connect the dots on their resume so you understand not just what they have done, but also why.
Why do you want to work for us?
Ask the candidate what they know about your company and once they have provided their response, fill in any necessary blanks. This is important to gauge whether the candidate has done their research on what makes your company a unique place to work. Try to give them an insight into what life is like at your company so they can envision what it would be like to work there. Consider describing the company culture and what makes it a great place to work. You should also mention any industry accolades which set you apart from the competition, plus any interesting or widely known projects which you have been involved with. What can often excite candidates is the prospect of working for a market leader who is renowned in their field.
What are three things that are most important to you in a job?
Many employers only scrutinize qualifications and skills without properly evaluating how well the candidate will fit in with the organization. You'll want to brainstorm the keywords which describe your team and company culture. For instance, you may work at a close-knit organization where everyone is very friendly and team-spirited. In this case, you'll want to ask probing questions that will uncover if the candidate possesses these attributes such as, "Can you give an example of a time when you worked well in a team?"
Give an example of when you had to work with someone who was difficult to get along with. How did you handle interactions with that person?
It is important to also assess the soft skills of the candidate. Soft skills are inherent personality traits which are trickier to teach and harder to measure. Think about which soft skills would be of benefit to the role, for example strong conflict resolution and problem solving skills. Also, think about the attributes the previous job holder had which were beneficial to the role, and which weren't. You should also speak to colleagues in the industry to find out which personality traits they recommend, as well as to your recruiter to get their expertise. Soft skills are not to be underestimated when interviewing for new talent, they can set the difference between a candidate that's good on paper, and one that's great in practice.
What are you seeking to accomplish in your career?
Think about the opportunities available within this role. For instance, there may be scope for the successful candidate to progress their skill-set and career within your organization. Will this candidate take advantage of the opportunities available? You should also find out what their expectations are for training and development opportunities. Internal progression and development should be a core part of your staff retention strategy and a key driver of company performance.
---
About this author
Travis O'Rourke
President of Hays Canada & CCO, Hays Americas
Travis is a Marketing graduate from Fanshawe College and was the 2023 recipient of their Distinguished Alumni Award. He joined Hays after holding various leadership roles elsewhere in the Canadian staffing industry. Travis setup and established Hays' outsourced talent solutions business and played an integral role in building Hays' temporary and contract divisions throughout Canada. Initially joining Hays with a deep background in Technology, he holds extensive cross functional knowledge to provide clients with talent solutions in Financial Services, Energy, Mining, Manufacturing, Retail, and the Public Sector.