4 interview questions to help you secure the best accounting talent
3 mins | Travis O'Rourke | Article | Recruiting Conducting interviews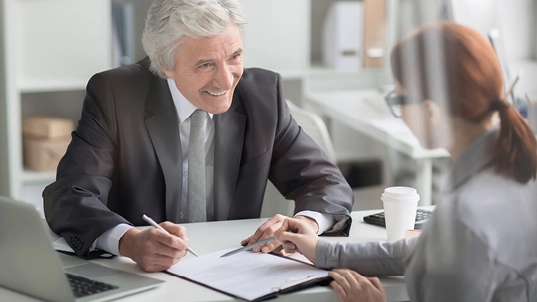 Questions to ask in your next accounting interview
When it is time to fill an accounting role on your team and find a candidate who possesses the key skills you require, the interview questions you ask will make all the difference. So how can you get the most from an interview?
Here are some key questions you will want to ask and why, to help you assess overall candidate quality when conducting you next accounting interview.
1."Why do you want to work for us?"
You will want to ask the candidate what they know about your company and once they have provided their response, fill in any necessary blanks. This is important to gauge whether the candidate has done their research on what makes your company a unique place to work. A top candidate will be prepared and have a good understanding of what your organization does and be able to tie that to why it's a place they want to work. Be sure to also mention any industry accolades which set you apart from the competition.
2. "Tell me about a time when you presented financial data to non-financial staff?"
It is essential for accounting and finance professionals to feel comfortable discussing financial data and reports with coworkers outside their department. You will want to look for professionals who have refined communication skills – both written and verbal and understand how to explain important topics to those who do not have a background in finance. This question will give you better insight into whether the candidate has experience presenting this type of information.
3. "In your previous job, what types of accounting software did you use?"
By asking this question, you will be able to gauge whether the candidate has a good understanding of the software that your company uses or if you will need to train them. Keep in mind that many technology skills are transferable so if they have experience using similar technologies as your company, they should be able to learn the new tech fairly easily. The right candidate will be able to easily list the systems with the level of experience they have had using them.
4. "In your work, how do you minimize the risk of errors?"
Minimizing the risk of errors is especially important in accounting roles and even the smallest mistake could lead to significant issues. Getting an answer to this question will help you gauge the candidates level of detail. The right candidate should highlight the importance of checking their work and be able to explain what steps they take to avoid mistakes in their role such as double-checking key records or asking their manager anytime they may not be sure.
We have the top talent you need – ready for you to interview.
If you would like more information, advice or guidance on how to incorporate these tactics into your interview process, reach out to a Hays recruiting expert.
About this author
Travis O'Rourke, President of Hays Canada
Travis setup and established Hays' outsourced talent solutions business and played an integral role in building Hays' temporary and contract divisions throughout Canada. Initially joining Hays with a deep background in Technology, he holds extensive cross functional knowledge to provide clients with talent solutions in Financial Services, Energy, Mining, Manufacturing, Retail, and the Public Sector.