2021 Salary Guide



No one could have forecasted 2020 and the devastating impacts that Covid-19 would have across the country. As we transition to the new age of work, businesses are navigating the everchanging landscape. With socially distanced workplaces and hybrid working models becoming more common – agility and adapting to change are key pillars to success.
Get insight into the latest hiring trends, market-rate salaries and hot jobs. You'll also receive key considerations to help strengthen your recruitment and retention strategy when you download your copy of the guide today.
2021 Salary Guide_key findings
Key findings


71% of employers are optimistic about the future Canadian employment outlook, with 76% optimistic in Quebec.


19% are planning to increase staff base salaries compared to 29% in 2020


40%
of employers are intending to integrate remote work as part of their normal practices. In fact this year, employees expressed that the ability to work from home is now one of their most desired benefits


43%
of employees cited that their company has taken no measures to help support staff wellbeing as a result of the pandemic
---
With this guide, you'll find market rate salary ranges and insights on: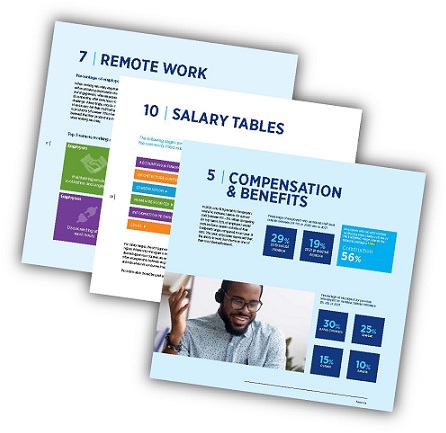 ✓ Current state of the market
✓ Salary and benefit trends by job category and city

✓ Remote working practices – challenges, productivity, and more

✓ Employee satisfaction and wellbeing advice

✓ How employers are pivoting in wake of coronavirus
---
Sectors include:
2021 Salary Guide form_right hand
2021 Salary Guide_Methodology
Methodology
The twelfth annual Hays Canada Salary Guide is based on a survey conducted from July 29th to August 5th, 2020 with a representative sample of n=1,946. This survey was conducted online in English and French and has a two percent margin of error with 95% confidence level.