2020 Canada Salary Guide


For our tenth annual hiring trends survey, we received over 3,000 responses from professionals and employers across the nation. This year, employers tackled familiar problems in hiring and retention while employees raised their expectations around compensation and job satisfaction. Here's a preview of what you can find in guide:
Economy poised for growth, despite the sluggish start
Canada's major industries reported a positive outlook for the economy in 2020 despite seeing a slow start in 2019. Nevertheless, downward pressure from the first half of 2019 led to lower hiring projections compared to the previous year.
Employers willing to pay more money to attract new talent
The majority of employers are willing to pay more to attract new hires. But they aren't applying the same philosophy to retain existing talent. More than half of employers have no plans to raise the salaries of current employees beyond annual inflation rate.
A diverse, inclusive workplace is a high priority for today's employees
This year's respondents overwhelmingly indicated their desire to work in diverse, inclusive workplaces. That said, it appears as though many organizations either are not implementing D&I processes or clearly communicating company positioning with staff. Furthermore, the majority of respondents said they are not aware of any diversity and inclusion staff within their workplace.
Human touch points will be vital as technology revolutionizes recruitment
Recruitment is a high touch process that technology will streamline in terms of sourcing and screening. This will raise the significance of human interactions later in the hiring process.

Get your copy today to learn more and find out the latest salary ranges for over 800 positions, including hot jobs across 12 industries.
---
Year Over Year Trends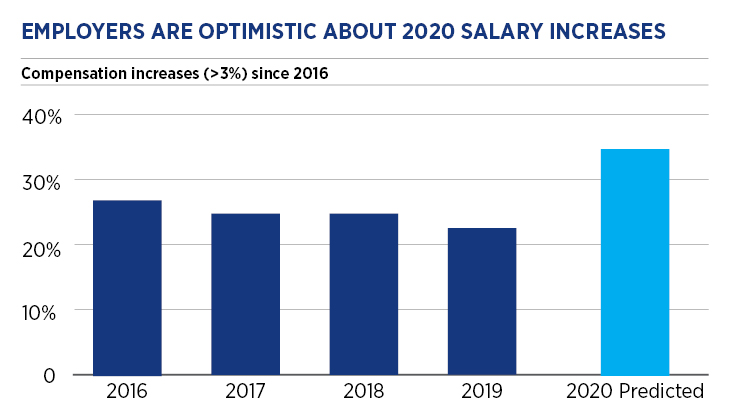 ---
The Hays 2020 Salary Guide survey was conducted from July 24 to August 22, 2019 with a representative sample of n= 3,591. The survey was conducted online in English and French and has a two per cent margin of error.
2020 Salary Guide form_right hand