Guide for the inclusion of the LGBTQ2+ community in the workplace
5 mins | Louisa Benedicto | Article | People & Culture Learning & Development Staff engagement Leadership Diversity Culture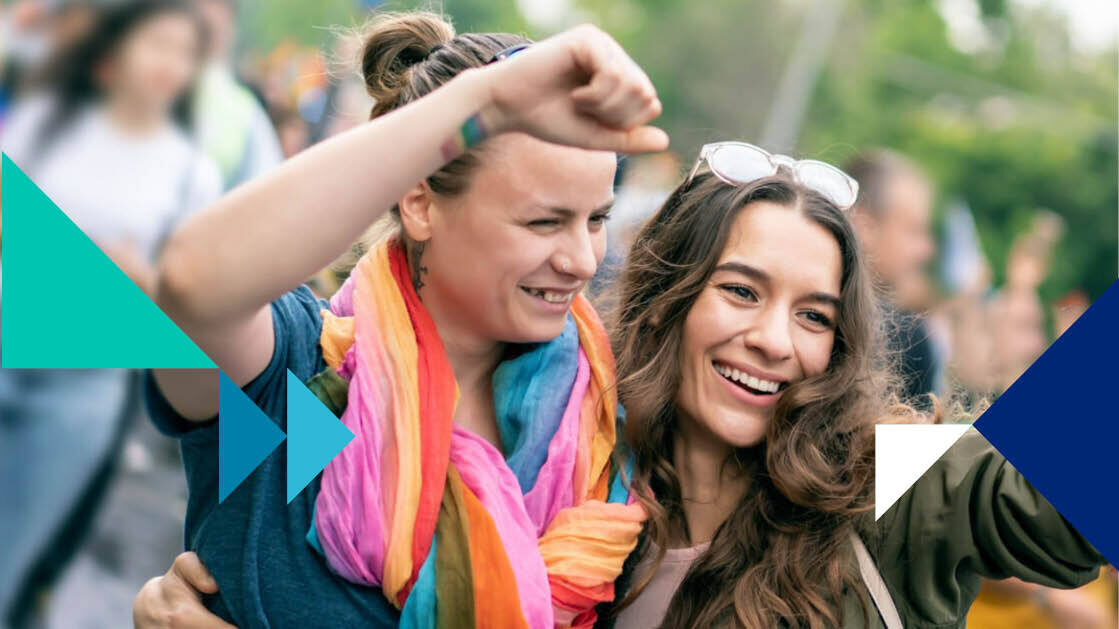 KEY TAKEAWAYS
To be inclusive try changing your dialogue, example: replace expressions such as 'fathers and mothers' for 'families' or 'boyfriends or girlfriends' for 'couples'
Create Employee Resource Groups (ERGs) to gain insights on policy changes and initatives
Ally is a verb and real action needs to take place in order to make a change – speak out against inequalities
Pride Day, celebrated on different dates internationally, is the annual occasion to show support to the LGBTQ2+ community through large parades and celebrations. There is a reality in our society that we must face so that people with different sexual and gender identities are not discriminated against. We must understand that generally we are not aware of the difficulties faced by the members of the LGBTQ2+ community. We need to be open, listen and let them show us the way to become truly inclusive.
In some cases it might feel like we're actually going backwards, as laws are being created that go against equality and are harmful to the LGBTQ2+ community. So we must not stop advocating for the acceptance and inclusion of this community across the Americas. Allyships is super important and it's not enough to say you're an ally, but to really speak up and advocate for those in the LGBTQ2+ community. In the Americas our theme is allyship, and the importance of acceptance in the workplace. As a global recruitment group, from Hays we want to offer a short guide of six principles that can help any business become more open, plural and respectful.
1. Coming out is a continuous experience, not a unique situation
This first principle is fairly common, especially in the workplace. The 'closet' is often referred to as a metaphoric place where once you're out you never go back. When, in fact, the opposite happens. According to a McKinsey Report, 'coming out of the closet' is a situation that the members of the LGBTQ2+ community experience on a monthly basis, even weekly and daily depending on each case. Workers find themselves having to correct their colleagues regarding their personal situation or having to reaffirm the assumptions others make about them. This is why replacing expressions such as 'fathers and mothers' for 'families' or 'husband or wife' for 'partner' is quite useful and inclusive. It allows anyone to feel included and doesn't assume anyone's gender nor identity.
2. Someone's sexuality or gender identity cannot be a taboo
Not assuming someone's sexuality or identity should not be confused with turning the subject into a secret or a taboo. It is very easy to say "I don't care what anyone does at home." But following this mindset is very dangerous nowadays, as it makes all non-straight people invisible. There is a middle ground between not assuming and being able to freely share matters about one's sentimental life. Saying 'I don't care' can impose the Law of Silence, where things are not normalized. We spend a large part of our daily life working, and encouraging people to feel fulfilled and be themselves in the workplace is essential to achieve an inclusive company. You do not have to force or assume; it is simply about creating the right kind of environment.
3. The LGBTQ2+ Community is made up of different populations
Companies and organizations have to advocate for all the people in the LGBTQ2+ community. Each group has different experiences, but they all are related to gender and identity. Including the acronym LGBTQ2+ and encouraging others to speak about the issues in each letter is essential; such as the difficulty of recognizing their own gender faced by trans people, or the social invisibility suffered by bisexual people. All letters in LGBTQ2+ matter.
4. Discrimination is not always easy to detect
When we think of discrimination in the workplace, the first thing that usually comes to mind are insults, mobbing or even an unfair dismissal. These are very serious and concerning topics, but the discrimination in these cases is obvious, almost undeniable. Then, there's a large etcetera of scenarios, much more frequent and difficult to solve: jokes, comments, rumors, light mockery… It all starts with setting a good example from above. Make sure leaders and managers are the first to show zero tolerance for jokes that can make someone feel uncomfortable or unfulfilled at work.
5. Language and visibility matter a lot
At this point and after more than 50 years since the Stonewall riots in 1969, it might seem like showing support for the LGBTQ2+ community is redundant and unnecessary. But this perception could not be further from the truth. Showing support for the movement both internally and externally and manifesting that an organization is in full support of anyone's sexuality and gender often creates a comfort effect among current employees and favours the inclusion of future employees.
Signs of support can't only be based on changing a company's logo on social media and putting on a rainbow costume once a year. At Hays we like to reiterate that Pride should be celebrated all year round. Participating in demonstrations and joining campaigns can be part of the plan, but companies need to ensure that managers and directors are just as consistent with diversity values. Including protocols in HR departments or organizing talks and trainings on D&I are some of the first steps to guarantee an equal treatment of all employees.
6. It is no longer enough to be neutral; it is time to take action
In the work environment it is no longer just a matter of acknowledging that all workers are equally valid. It is time to show that companies support the LGBTQ2+ community and all that this entails. A very useful initiative is to promote the creation of internal committees that are in charge of promoting the acceptance of the different sexual and gender identities, which can be made up of both people from within the community and allies. At hays we have multiple Employee Resource Groups (ERGs) including the Black Excellence Network, Neurodiversity Network, Women Empowered in Leadership, Veterans Network and more.
Four years ago, we created the Pride Network ERG, which brings together the different Pride committees from around the globe. We have created real plans and objectives for the upcoming years. Involving employees is essential and we hope to contribute to a greater acceptance, inclusion and diversity in our immediate environment. We ask our employees for feedback to gain insights on how we can make changes to policies and different initiatives. Doors must be opened for those who have been discriminated; this is the only way to achieve real change. We promise to keep moving in the right direction.
About this author
Louisa Benedicto
SVP, Diversity, Equity & Inclusion – Americas
Louisa is Senior Vice President of Diversity, Equity, and Inclusion (DE&I), Corporate Social Responsibility, and Sustainability at Hays – covering the Americas region including Canada, the U.S., and Latin American Countries. She specializes in DE&I, enabling our clients to implement best practices that ensure everyone gets a fair opportunity in the recruitment process.