CYBER SECURITY
RECRUITMENT
IN CANADA
You need the right people to outsmart the hackers
The risks and threats that come with the digital revolution are constantly growing in sophistication and volume.

You'll need professionals who can manage this and who have the skills to mitigate the risks through a mix of the latest technical, procedural and behavioural controls.

Cyber security capabilities have a lot to keep up with, as do the professionals who develop them.
We recruit temporary, contract and permanent employees across a range of cyber security areas, including:
Identity

Governance, risk and compliance

Security operations

Application/cloud security

Incident response

Pen testing

DevSecOps

Architecture
Let us find the cyber security talent you need
Professionals who combine strong problem-solving skills with experience of the latest technologies, such as cloud and AI, to build automated security systems will be the ones who get hired most quickly.

That's why our super-networks and extensive relationships across the tech community are so important. Even in an area as quickly evolving as cyber security, we can always find exceptional people.

Whether you've got a job to register or you just want to talk through your options, leave your details and we'll get back in touch.

Cyber is a priority for Canadian companies. Cyber-attacks are increasing in number and sophistication every year. The potential damage to businesses has grown, along with the size of fines for non-compliance in many sectors.
And then you add the impact of COVID-19 to the mix, which cybercriminals sought to make the most of, and you have the perfect storm. As such cyber security professionals are in high demand and the competition for talent is fierce.

Miguel Duran, Manager Cyber & National Lead
Recruiting experts in Technology
Whitepaper: Security Risks of the Talent Shortage
In 2021, 1 in every 6 outages cost enterprises $6 million. Do you have the talent in place to protect your organization?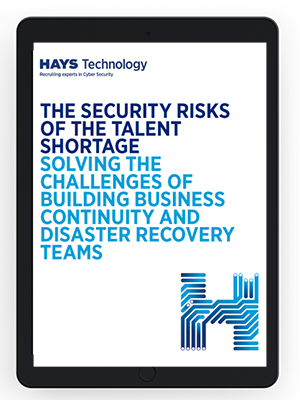 Project recruitment
Case study
Salary guide



Your cyber security recruitment questions, answered
What qualifications should I look for in cyber security professionals?
Of course, for technical roles a solid understanding of the principles of networking are vital – such as CCNA, for example. For more senior roles, qualifications such as CEH, CISSP, CISM, CRISC and CISA are good indicators of a well-rounded professional.
Aside from a good salary, what can I do to attract these professionals?
Obviously, a competitive salary is vital and your offering should be benchmarked using a tool like the
Hays Salary Guide
. But aside from this, opportunities to train and upskill are welcome – offering to pay for qualifications – such as CISM and CISSP – and giving time off to take courses.
Similarly, giving them time to attend the latest cyber security conferences and expos – such as hackathons or events and meetups in a more niche field, be it fintech, healthtech, risk or offensive events.
Other than this, flexible working is almost a prerequisite. Finally, stress that your organization recognizes the strategic input of its cyber security team and doesn't just see them as a support function.
How can I assess cyber security professionals so I hire the right person?
Don't focus too much on whether someone has experience in your exact industry, as this will seriously reduce your talent pool – and most cyber experience is highly transferable. Assess for technical competency by checking their qualifications and maybe having a technical assessment in place. However, once you've established that they have the right technical skills: ditch that resume and talk to them.

Find out if they can communicate well and clearly, ask about problems they've had to overcome in the workplace to get a feel for their attitude and aptitude. Also, find out if and how they keep up to date with the latest security developments away from work.