CANA Construction

Developing relationships. People first. Career progression.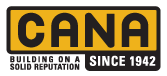 Celebrating their 75th anniversary in 2017, CANA Construction is one of the most recognized and respected corporate brands in Alberta Construction, building on innovative strategies and recognizing current and upcoming marketplace demands. Based out of Calgary, Alberta, CANA Construction provides construction and project management services, stipulated lump-sum contracts, fixed-fee contracts and design-build services. Continuing to build a solid track record in the community, be proud to join a team with an excellent reputation for delivering projects safely, on time and on budget.
Why choose CANA as your next employer?
Committed to developing the community and its relationships
CANA values its relationships with clients and the construction community and takes pride in its reputation for being reliable, honest and transparent. Involved in variety of high-profile and unique projects across Alberta, your focus will not only be on building high-caliber buildings but developing and maintaining long-lasting relationships. As a CANA employee, your approach to thinking outside the box to solve problems is not only valued but encouraged, stemming from the founder's commitment to "solve problems not on the basis of who is right, but what is right,' to ensure customized and focused service for clients.
Strong sense of community where people come first
Owned and managed by the Simpson family for five decades, the family's hands-on approach to operating the company not only ensures a tradition of consistency that Albertans trust but has fostered a close-knit culture and team environment where its people come first. From their highly regarded 'Journey to Zero' Safety Program, to an owner who takes the time to get to know your name, you join a grounded organization with a strong sense of integrity and community.
A commitment to your career progression
As an award-winning employer, career development with CANA starts the moment you join the family, providing each and every employee with the opportunity and access to the resources they need to excel. From guidance from CANA's highly qualified senior leadership team, to the Educational Assistance Benefit Program, or in-house safety training, you are supported with a wealth of programs. Working with CANA is more than just a job, it's a place to build the career of your choosing across various job categories, project types, and locations across Canada.