DNA of a VP of Human Resources


✔ Getting a broad range of HR experiences and an understanding of business operations
✔ Becoming an effective leader
✔ Being seen as a strategic partner
Get your copy of the guide to learn valuable insights into how you develop your skills in these three areas as well as advice and lessons learned directly from succesful HR leaders.
The DNA of a VP of HR looks at the common career path in human resources to achieving a VP or higher level role in Canada.
Watch the DNA HR video
Hear from Senior Vice President Sofia Theodorou from LoyaltyOne, Executive Vice President, Carrie Lindzon-Jacobs, from IMAX, Vice President, David Doull from Dream Unlimited Corp, and Vice President of Strategy and Operations, David Clarkson, from Cisco.
About the report
This report is comprised from a survey of over 100 VPs of HR from across Canada, a deepdive into Hays database, looking at 100 resumes of VPs of HR, and over 10 interviews with today's HR leaders.
DNA VP HR form_right hand
Additional Resources_right hand
Interested in additional resources?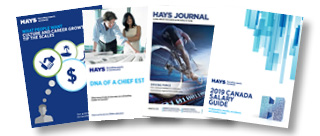 From salary guides, to labour market reports, blogs and more - we've got it.