How to Write a Cover Letter
7 minutes | Travis O'Rourke | Article | Resumes & cover letters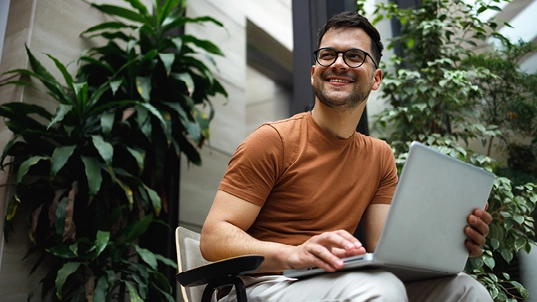 Writing a cover letter to accompany your job application can really help you to stand out in the mind of a hiring manager or recruiter. Taking the time and effort to write one positions you as a proactive candidate who is genuinely interested in the role you've applied for.
Before we begin – let's go back to basics; what is a cover letter? This is a document that candidates sometimes submit alongside their resume when applying for a job. It serves as a personal introduction to you as a professional, and enables you to briefly summarize why you are the right person for the job, before the reader goes on to find out more about you in your resume.
Not all candidates will make the effort to write a tailored and personalized cover letter. So, if you do, it's more likely that you will catch the attention of the reader. As Jodi Glickman, a communications expert and author of Great on the Job, has observed: "Not sending a cover letter is a sign of laziness. It's akin to making spelling and grammar mistakes in your resume. You just don't do it."
Your cover letter needs to communicate that you are genuinely interested in the opportunity that the given role represents and why. This means the letter needs to be tailored, and not just a standard letter that you've edited. Below are some of the do's and don'ts of writing a cover letter.
What to do when writing your cover letter:
Do your research before you start writing. This will help give you a clue of the appropriate tone to use in the cover letter and the points you should include, bearing in mind factors such as the organization's industry, culture and values. Look at sources like the organization's official website and social media profiles, its executives' social media profiles and any online employee reviews.

Personalize it. This information is easier to find than it has ever been before, so you really don't have much excuse for getting any names wrong or not addressing the cover letter personally to the hiring manager. And certainly don't just copy and paste your cover letter for every position you apply for – make it personal and targeted every time. It'll be obvious to an employer if you've just edited a few words of the same cover letter that you send to everyone else, which may suggest you don't have a genuine interest in the vacancy.

Start with a strong intro to hook the reader. The first sentence of the cover letter will either grab the hiring manager's attention or lose it, so it needs to powerfully demonstrate that you understand what they are looking for and need. Instantly communicate your unique selling points that will help to solve the hiring manager's problems, such as relevant industry knowhow, skills, experience and achievements, instead of the generic "I'm applying for the role of XXX."

If you've come across this opportunity via a friend or have a previous connection with the organization, mention it. Maybe you were previously introduced to the hiring manager by this person, because they thought you were a good fit for the role? Or perhaps you crossed paths as an intern or an employee at one of the company's suppliers or competitors?

Optmize the subject line, if you can. Also check the job description again, in case the employer asks applicants to include something specific in the subject line.

Use keywords mentioned in the job description, but don't keyword-stuff in the hope that your application will get picked up in any applicant tracking software (ATS) – it is possible to overdo your use of keywords.

Include your contact information including your name, phone number, email address and LinkedIn URL.

Sign off professionally. Conclude the main body of the cover letter with a power phrase such as, "I would like to discuss in greater detail the value I could bring to your organization," and close with the formal and widely accepted "Best regards" or "Sincerely".

Spell check and ensure the formatting is correct. If you're submitting your cover letter as an attachment online, write it in a Word document so that the program can flag up obvious issues like misspellings. Also, check that any formatting in Word translates properly into the email or online form. In terms of formatting, break any intimidating blocks of text into more readable paragraphs and bullet points.

If possible, put your cover letter and resume in the same document, which will help to avoid your cover letter from being misplaced if the employer uses an ATS.
What not to do when writing your cover letter:
Don't drone on – keep it succinct. The reader is interested in concrete facts rather than quirkiness or clichés.

Don't overlook the finer points. Have you taken the time to find out the name of the recipient so that you can address the cover letter to them personally? What about confirming your availability towards the end of the letter, and signing off appropriately? It's small touches like these that could really help you to stand out from other candidates.

Don't just repeat what you've said on your resume or LinkedIn profile – a cover letter should be complementary to these other means of marketing yourself professionally, and should therefore support and enhance your story. What is it about your hobbies, interests and background that made you especially interested in this position?

Don't go overboard with the flattery, as this could risk you coming across as insecure or insincere. Professionalism, maturity and authenticity are vital qualities to communicate from the beginning of your relationship with the employer.

Don't write in the third person. After all, a cover letter is addressed directly to the employer. You are using this document to sell yourself, and while a cover letter's tone of voice should be professional, it should also be sufficiently conversational to engage the reader and communicate your personality, values and interest in the role.

Don't use WordArt or unusual fonts. Use a standard professional font like Arial, which is readable and clean. This isn't just about making the right impression on hiring managers and lessening their eye strain, as the automated scanning systems used by applicant tracking systems can also sometimes struggle with more unusual fonts.
Summary
The principle of a successful cover letter is simple: it needs to be sufficiently interesting to an employer to leave them feeling compelled to find out more by reading your resume, before finally deciding to call you in for an interview. By following the above advice, you can help to make yourself a more attractive candidate so that you have a greater likelihood of being shortlisted for interview.
---
About this author
Travis O'Rourke, President of Hays Canada
Travis setup and established Hays'outsourced talent solutionsbusiness and played an integral role in building Hays' temporary and contract divisions throughout Canada. Initially joining Hays with a deep background in Technology, he holds extensive cross functional knowledge to provide clients with talent solutions in Financial Services, Energy, Mining, Manufacturing, Retail, and the Public Sector.