Soft skills that hiring managers are looking for on your resume
5 mins | Travis O'Rourke | Article | Resumes & cover letters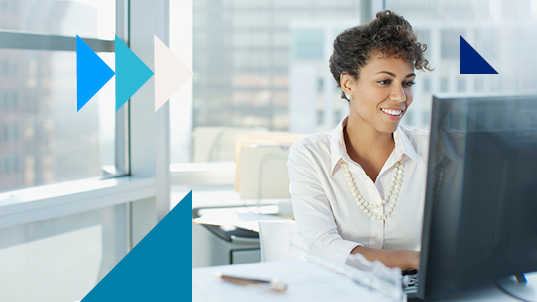 When applying for jobs, it can be tricky to show that you're the right person for the role, especially if you're unsure of what the interviewer needs to know about you. However, you'll stand a much better chance of impressing your potential manager or hiring party if you can offer concrete examples of soft skills that employers are looking for.
What are soft skills?
As opposed to technical skills, such as coding, these aren't tied to any specific roles or industries and can be used across almost any position. As you'll see from the examples, it's likely that you'll need and use these skills daily, even if you don't realize it. Soft skills are growing in importance because, as innovation and technological advances are rapidly permeating different industries every day, it's the soft skills that won't become outdated so quickly - the key to enabling organizations to embrace change and future-proof themselves. Artificial intelligence can automate things like analyzing data, but it can't lead a team.
What is the difference between soft skills vs hard skills?
Now that you know what soft skills are, it's important to understand the difference between those and "hard skills". Hard skills are tangible, quantifiable skills that make you qualified for a specific job. For example, having proficiency in several coding languages or knowledge of different CRM platforms can be hard skills. These manifest themselves as practical, technical things that can land you a job in your desired industry.
Why is this important? Because with hard skills, you can easily show your expertise in these fields through certifications, higher education, or in-depth conversations about those topics. Soft skills are more difficult to get across. How can you prove that you are a leader? How can you show a hiring manager that you're a people person? This is why they're different and why you may need to take a different approach to how you display them on your resume and in interviews.
How to add examples of soft skills to your resume
Many people tend to just throw in their skills at the bottom of their resume with no context. Having a list of skills bulleted does nothing for the hiring manager. It's much better to include your soft skills by showing them throughout your Employment History section.
This shows the reader how you were able to deliver success using your skills without explicitly mentioning them. This will help you stand out from other candidates because you'll have context to back it up before you get the interview.
What are examples of soft skills that employers are looking for right now?
Communication
Whether you're sharing information between colleagues, or reporting to senior stakeholders, the ability to communicate well tops the list for many employers.
Showcasing communication on your resume:
Responsibilities like distributing updates or resources to a wide audience.
Examples of collaboration between other departments or external stakeholders.
Any experience in presenting or public speaking to audiences internally or externally.
Showcasing communication in an interview:
Be direct and answer what the interviewer wants to know. Avoid "waffling" or providing irrelevant information. Show how communication has played a role in your previous successes, such as feedback to a colleague or collaborator.
Provide examples of where you had to convey complex ideas to others and how that created a positive outcome.
Teamwork
Just describing yourself as a "team player" won't cut it. The hiring party will want to know how you'll work with others, and how you can deliver the right results.
What to include in your resume:
Any specific projects that required collaboration between you and your team or people in other departments or organizations.
Has your role within a team changed over time? Try to add multiple examples of the evolution of your career within a company, and the part you played.
How to showcase in an interview:
Prepare a story of how you and a team (internal or external) worked together and the impact it had. If possible, explain how you can replicate that strategy in the role that you're applying for.
Discuss your ability to contribute to a team while listening to others. Explain what you delivered and how this was a success.
Self-motivation
Can your next manager trust you to stay productive during challenging times? Or take charge of your responsibilities and learning?
What to include in your resume:
Discuss any projects or responsibilities in which you took initiative and created solutions before being asked.
Any examples of where you've developed your skills outside of work, including any certificates or classes. This will also help to show the interviewer that you have another important soft skill, a learning mindset.
How to showcase in an interview:
Discuss instances where you've identified areas for self-improvement and took proactive steps to improve.
Explain how you stay motivated without supervision. If you have worked remotely, examples of this can help paint a picture of you working independently.
Attention to Detail
Being thorough in your work tells your next employer that they can depend on you, as does the ability to spot any mistakes or catch things that others might have missed.
What to include in your resume:
Accurate information! Make sure the document is free of typos or grammatical errors, while ensuring consistency in the format, writing style, and layout.
Responsibilities where accuracy was vital to the success of the role. This could range from written copy in reports or marketing collateral to data or figures.
How to showcase in an interview:
Highlight any specific techniques you follow to maintain accuracy, like writing checklists or your review processes.
Explain how you organize and manage your responsibilities to ensure nothing falls through the cracks.
Adaptability
As mentioned in the introduction, today's workers need to be able to adapt to change.
What to include in your resume:
Instances in your career of when you've needed to adapt in your role such as a change of responsibilities or altering plans based on new knowledge or timelines.
How to showcase in an interview:
Be prepared to talk about how you've adapted to a new role, or when you've had to pivot during a project or campaign.
If asked about what you've learned from a challenging moment, talk about how you adapted in the moment and what you did differently next time (or would do).
Emotional Intelligence
Emotional intelligence (often referred to as EQ), is "the level of your ability to understand other people, what motivates them and how to work cooperatively with them – while being mindful of your own emotions" – as defined by Howard Gardner, Harvard theorist.
What to include in your resume:
Include any instances that show your ability to manage your emotions or others around you, such as pivoting on a project due to stakeholder feedback or a time when you helped motivate colleagues.
It's important to show your ability to recognize and understand social cues, while not letting them affect your behavior or how you handle relationships.
How to showcase in an interview:
Describe perhaps a challenging time for your team/organization and how you stayed level-handed and empathetic throughout, recognizing the importance of other's needs and relationships.
A situation in which you improved efficiencies/automated a task while valuing a human touchpoint.
Start looking for your next job and apply today.
About this author
Travis O'Rourke
President of Hays Canada & CCO, Hays Americas
Travis is a Marketing graduate from Fanshawe College and was the 2023 recipient of their Distinguished Alumni Award. He joined Hays after holding various leadership roles elsewhere in the Canadian staffing industry. Travis setup and established Hays' outsourced talent solutions business and played an integral role in building Hays' temporary and contract divisions throughout Canada. Initially joining Hays with a deep background in Technology, he holds extensive cross functional knowledge to provide clients with talent solutions in Financial Services, Energy, Mining, Manufacturing, Retail, and the Public Sector.