Tentree

Entrepreneurial culture. Environmental progress. Inspire.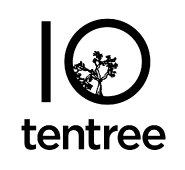 tentree is a rising, entrepreneurial Canadian apparel company making a difference ten trees at a time. Based in Regina, Saskatchewan, tentree's lifestyle clothing brand has quickly established itself as one of Canada's fastest growing apparel brands. With hoodies, outerwear, backpacks and more, its products can be found in more than 80 stores across North America. Founded on the premise that every consumer wants to know that they're contributing to the wellbeing of our planet, you will be joining a unique employer dedicated to inspiring consumers and giving back to the world around us.
Why choose tentree?
Young entrepreneurial culture
When you join the tentree team, you are joining a young team of like-minded and ambitious individuals who share the same values that the company was built on – making a positive impact, always being authentic, and fostering a collective consciousness. Be excited about coming into work every day to a creative and collaborative environment where everyone is whole-heartedly committed to company's vision. If you want to work for an Employer of Choice, where "we" comes ahead of "me", tentree is for you.
Redefining environmental progress
When you join tentree, you are becoming a member of a team focused on becoming one of the most environmentally progressive brands on the planet. If you share in their belief that what you wear matters, be proud to join an organization that provides ethically sourced, fashionable clothing made entirely out of eco-friendly materials. From the materials they use, straight through to the manufacturing facility that uses solar panels to generate the energy, tentree sets the bar in environmental responsibility.
Give back while inspiring the next generation
tentree is a mission-driven company and that mission is simple: give back to the environment. In achieving this goal, for every item sold, tentree and its partners plant 10 trees. It is through this relatively simple concept of planting trees that you join an employer that inspires, from entrepreneurship and building sustainable communities, to providing shelter and improving our quality of life. In their efforts, tentree partners with the Canadian Wildlife Federation to inspire youth to get outdoors, as well as not-for-profits to ensure the local workers planting trees are earning a livable wage, and more. If you are passionate about tackling the environmental issues we're all faced with and sharing your love for the world around us, then tentree is where your passion and career meet.