Hays Journal 16


Artificial Intelligence (AI) is already being used to complete many vital tasks across a range of industries, but could it be used to boost productivity for the global workforce generally? Find out now with your copy of the latest issue ensuring you and your business stay on top of the rapid technological changes.
About
The Hays Journal is a bi-annual publication providing insight and news for HR, recruitment professionals and hiring managers on the ever-changing world of work.
Additional Resources_right hand
Êtes-vous intéressés à avoir accès à des ressources additionnelles ?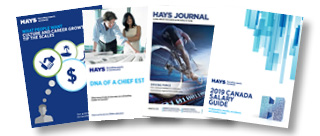 Des guides de salaire aux conseils de carrière, etc., nous avons tout ce qu'il vous faut.