Information Technology_employer
Technologies de l'information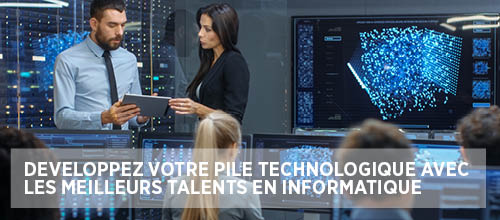 Sur un marché axé sur les candidats, les professionnels en informatique disposent d'options et choisissent des rôles significatifs en fonction de leur parcours professionnel. Nous travaillons selon un modèle spécialisé. Nos recruteurs en informatique parlent donc chaque jour à des professionnels de l'informatique. Nous comprenons ce que veulent les candidats et comment commercialiser stratégiquement vos rôles, peu importe le langage de programmation, le projet ou les outils.


Les projets et les opérations informatiques dépendent de la fiabilité et la rapidité des talents. Examinez les candidats qualifiés dans les 48 heures suivant l'embauche et, une fois que vous aurez sélectionné le nouveau membre de votre équipe, nous allons nous occuper de la vérification de la conformité dans le cadre de notre programme de prise en charge des entrepreneurs.

Vous vous occupez des affaires. Nous prendrons soin de vos entrepreneurs. Accueillez du personnel de qualité, adéquat, enthousiaste, doté des compétences nécessaires pour s'intégrer à votre équipe pendant toute la durée du projet. Nous avons mis en place une équipe de partenaires dédiés basée à Mississauga, en Ontario. Nos spécialistes assurent une assistance intégrale du début à la fin du projet.
IT trusted partners& clients_employer page
Partenaires fiables

Clients fiables

IT top roles & reports_employer page
Rôles principaux
Développeurs de logiciels
Business Analysts
Gestionnaires de projet
Ingénieurs en cybersécurité
Artificial Intelligence
Big Data
Keep up with the competition
Read the latest industry insights and market-rate salaries in IT.
Employer Contact Us form_right hand
Laissez-nous vous aider à embaucher